Introducing your Dog to the New Baby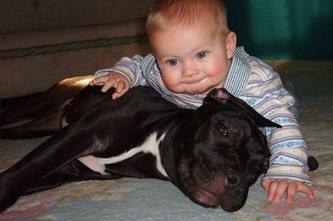 So you're having a baby? First of all CONGRATULATIONS! Now that you have sent out the birth announcements and are planning the shower you've started to think about the fact that your dog may have never been around a child or infant before. This is probably a bit worrisome, but fear not! You are not the first family to have a baby and a dog at the same time, and you won't be the last.
Unfortunately hundreds, perhaps thousands, of family pets make their way to county and state shelters each year because people's circumstances change, and all too often it is because a baby is brought into the world. Many people don't spend the time to work with their pet and properly introduce their pet and child, instead they decide to surrender their pet and move on with their lives. This is quite unfortunate. First and foremost for the dog, but also for the child. Growing up with pets is great for children. They help boost confidence, provide unconditional love, and a great long lasting friendship. Who wouldn't want that for their son or daughter?
Here at Pittie Me Rescue we understand that having a baby is an exciting but also stressful time in your life. We don't want you to worry about your dog on top of all the regular worries! So please become educated! Reach out! Ask Questions! Our goal for every dog adopted is permanence in a loving and happy home!
Visit the links below to read about how you can make the transition from no children to a brand new baby in a way that will be great for you, your dog and the baby!

Do you have a young child in the home? See below for some helpful toddler tips!
---
Dog and Toddler Safety