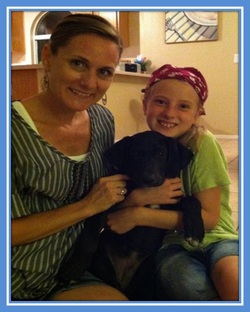 Jake, a 3-4 month old Black Lab/Hound mix spent his days tied up, unwanted and unloved. Lucky for Jake, he was rescued by a friend of a PMR volunteer! Only a few hours of being listed for adoption, Jake had an interested party, Atria an 11 year old girl that is a HUGE dog lover!!! Atria did her homework and read all the books she could get her hands on about training dogs, dog, and dog nutrition! After saving up all of her birthday and chore money over the last year, Atria was able to save $230 and she decided (with the help of her mom, Adrienne) that Jake was the pup for her!

Last week, Jake started his 2 week foster to adopt and was welcomed by a HUGE "welcome" sign made by Atria, a squeaky toy bought with her own money, and a blanket laid out on the floor where she would teach Jake his "go to place"!

Jake will now live the life as a permanent resident in Mesa and also have a "home" in Pinetop where he will spend his time with his new family on an acre hiking, going to the lake, getting lots of love, belly rubs!

We love happy beginnings!